African governance improves, but Eritrea ranked worst
Economic troubles that have seen protests by tens of thousands of citizens clashing with police violently have not prevented Zimbabwe from attaining a better spot in the Ibrahim Index of African Governance (IIAG) released by the Mo Ibrahim Foundation this week.
Nor have continuing human rights abuses in Ethiopia held it back from scoring higher than it has before.
Zimbabwe and Ethiopia benefitted — in part — from trouble elsewhere on the continent.
Of the 16 African countries that have seen a drop in their overall governance ranking since 2006 three — Libya, Madagascar and Eritrea — have seen a dramatic decline.
This decline was seen in several sub-categories: safety and rule of law, participation and human rights and sustainable economic opportunity.
On a worrying note, all sixteen countries declined in the former category, and more than half plummeted in either participation and human rights or sustainable economic opportunity.
The index also makes specific mention of the Central African Republic, Eritrea and Libya, countries that feature in the ten most deteriorated countries on the continent within overall governance, with Central African Republic and Eritrea declining across all categories.
Not to be outdone, South Africa garnered the dubious distinction of the 10th "most deteriorated over the course of the decade" in overall governance.
Political analyst Prince Mashele says this is to be expected given the "corruption scandals [that] have characterised political life in South Africa over the past eight years or so".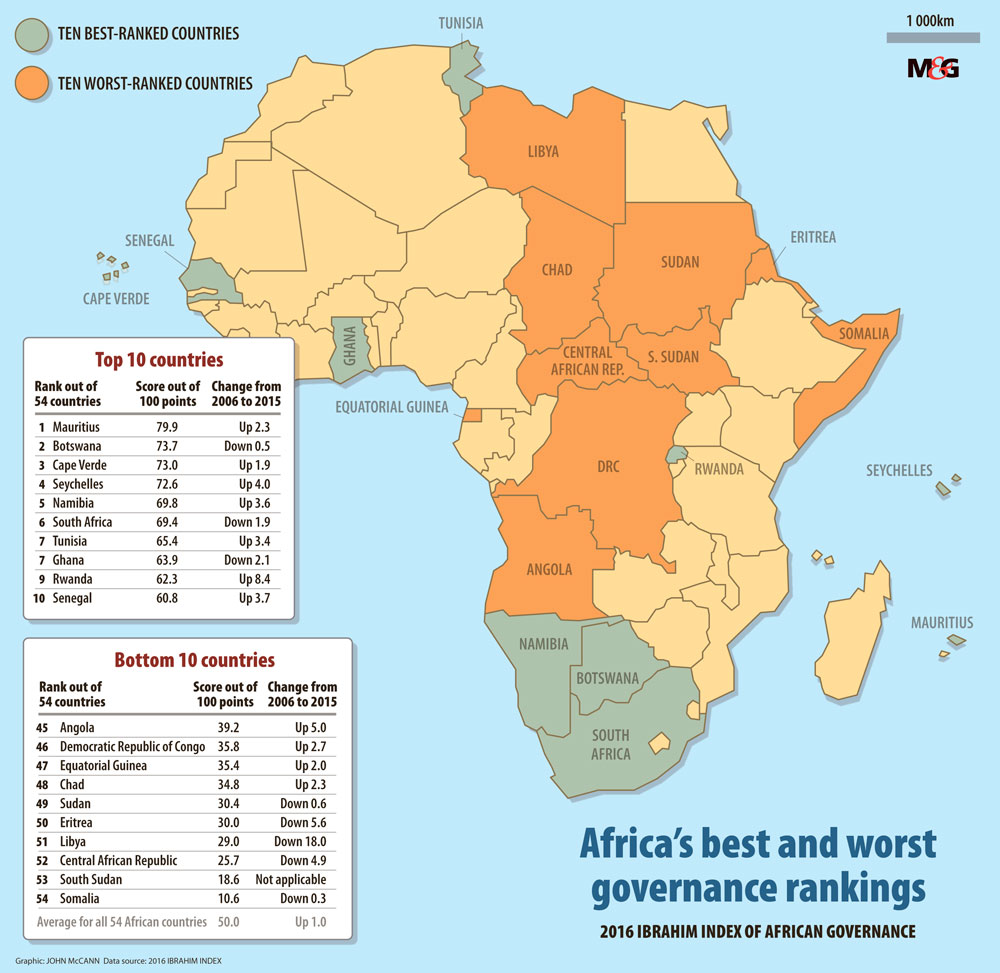 "Generally South Africans believe that there is a wide-spread culture of impunity in the country. The deterioration in governance is, in my view, informed by perceptions of deepening corruption and impunity," he says.
The foundation attributed Zimbabwe's "progress" to the very low base it started from.
"The score achieved in 2015 remains low. The most striking positive performances are registered in the rural sector (+26.8) and in gender (+20.9). The lowest indicators are those related to corruption under the accountability sub-category," said a spokesperson for the foundation.
In said category — corruption in government and officials — Zimbabwe has a -20 score.
In total, 37 countries out of 54 showed an improvement in overall governance since 2006 — this represents 70% of African citizens.
The IIAG pulls together the "most comprehensive data available to accurately assess policy and the delivery of public services on the African continent", explains foundation board member, Jendayi Frazer.
To do so, it draws from a variety of sources, including the World Bank, the World Health Organisation, the World Economic Forum, and Afrobarometer.
The IIAG — which is updated annually — then compiles this data and de-aggregates it into indicators, sub-categories and categories, which inform the overall governance score for each country.
Frazer would not be drawn on the foundation's view on current African leaders who refuse to relinquish their grip on power, suffice to say "the point of the index is to not talk in such generalities about the state of leadership in Africa because we actually know something about leadership in 54 countries".
Asked about the foundation's role in training future leaders, Frazer, who was the first woman United States ambassador to South Africa, said that the foundation had a number of programmes focused on leadership training, one of which provides scholarships for students as well as fellowships for mid-career professionals.
Short URL: https://english.farajat.net/?p=10484