A Statement of Support to Mr. Berhane Abrehe's, the Former Minister of Finance of Eritrea Exiled Former Members of the Eritrean National Assembly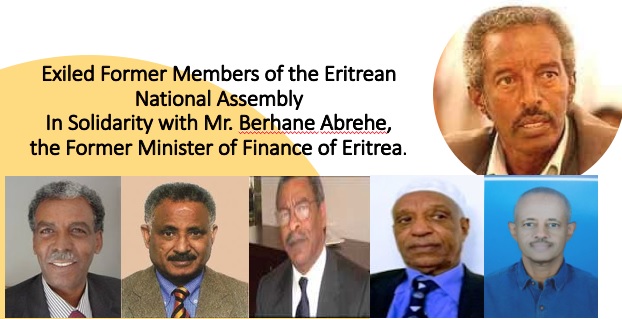 We, the undersigned exiled members of the Eritrean National Assembly, would like to express our strong support to the courageous act taken by our colleague, Ato Berhane Abrehe Kidane, the former Minister of Finance, against the dictatorial regime of Ato Isaias Afwerki.
In a recent message, Ato Berhane Abrehe has outlined a process in which Ato Isaias Afwerki would surrender power to the Eritrean National Assembly in a "peaceful, legal, civilized and Eritrean manner." We strongly support the call to end the reign of tyranny, hand power to the people and bestow legitimacy on the Government of the State of Eritrea.
As we commemorate the 57th anniversary of September 1st, the start of our armed struggle, we have the responsibility to recommit ourselves to the two principal objectives which inspired and sustained our long fight for freedom: the first was to liberate Eritrea from Ethiopian control, which we accomplished with enormous sacrifices; and the second was to install a government of the people, by the people and for the people, which remains to be done.
The failure to accomplish the second goal has subjected our people to unprecedented suffering. Ato Berhane Abrehe has aptly depicted the dire situation of our people when he said, "for the last 17 years, all Eritreans, inside and outside the country, have endured a life of misery, hardship and wretchedness due to the abusive dictatorial rule of Isaias."
As veterans of the armed struggle, we are keenly aware that we have to deliver on our promises and finish what we started 57 years ago. Therefore, we unequivocally support the call to remove Isaias and restore power to the Eritrean people. Furthermore, we call upon our former comrades-in-arms and colleagues to rise up in support of Ato Berhane Abrehe.
Supporting Berhane Abrehe is supporting the ideals we invested our youth and fought for and one of the best ways to honour the huge sacrifices the Eritrean people made in the process.
Supporting Berhane Abrehe is supporting the struggle for popular sovereignty and democracy.
More crucially, it is the practical recognition that the removal of Isaias Afwerki from power is the first step towards ending tyranny and realising the objectives that have eluded us for long. 
Amb. Adhanom Ghebremariam
Amb. Andebrhan Welde Giorgis
Ato Mesfin Hagos
Ato Mohamed Berhan Blata
Ato Mohiadin Abubaker Shengeb
13 September 2018
Short URL: https://english.farajat.net/?p=11145