Abiy Ahmed orders his army to deal with the situation in Tigray militarily, "War cannot be avoided unilaterally."
Farajat: Sources
The Ethiopian Prime Minister's Office issued an official statement today calling on the Ethiopian Defense Forces to deal with the situation  Tigray militarily after all peaceful means became impossible, especially after the TPLF hit the Ethiopian Defense forces stationed in the northern sector.
The statement said, "The TPLF forces carried out this  morning 4th  November 2020 ,  an offense  and attempted to steal  artillery and military equipment. "The leadership of the northern command is present in the Tigray region for two decades, providing protection and necessary services to the Tigray people." said the statement.
The statement mentioned  the events that took place in the region in the past weeks, where the  Regional government mobilized for war and recruited militias to confront the Ethiopian defense forces and prepare for war after the media war  worsened, between  the regional government and the federal government. The statement also accused the regional government, using one of the textile factories in the region, to manufacture military uniforms similar to Eritrean military uniforms to be used in misinformation, and that the attacks came from the Eritrean side.
The statement concluded that the Ethiopian Defense Forces have been given full powers to deal with the situation militarily, perform the tasks entrusted to them, and protect the country from full disintegration . The Prime Minster asked the people to take caution  against any harassment or friction in the main cities.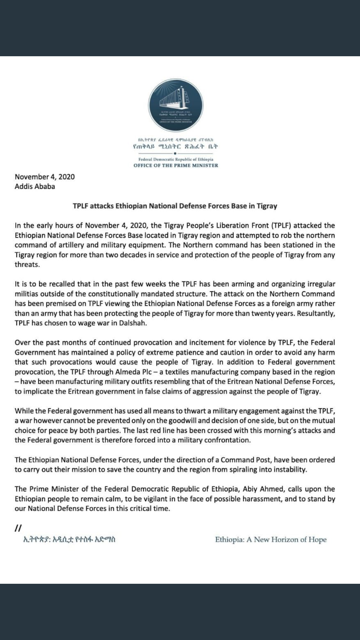 Short URL: https://english.farajat.net/?p=11385