Press Release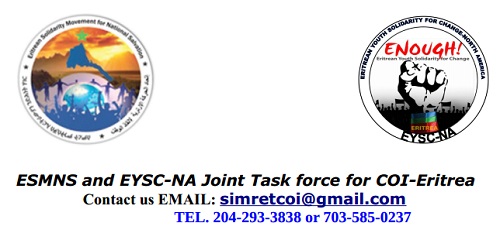 Joint Communiqué on UN Commission of Inquiry (COI) on Eritrea
Spokesperson of the Joint Task Force
Eritrean Solidarity Movement for National Salvation (ESMNS) and
Eritrean Youth Solidarity for Change-North America (EYSC-NA)
December 4, 2014
ESMNS and EYSC-NA set up a joint task force to work with COI on documenting the horrendous abuses affecting our fellow citizens which, we believe, will bring world attention to our people's suffering and explore possible avenues for justice for our brothers and sisters. We are mobilizing fellow citizens worldwide to work and cooperate with COI in accomplishing its mission.
We believe that it is our obligation to contribute not only towards meeting the objectives of the COI but also addressing the gross human rights violations in Eritrea.  We believe the accomplishment of the mission of COI is a prelude to ending the endless suffering of our people.
We call up on our fellow brothers and sisters who were detained and abused in inhuman and degrading conditions by the Eritrean authorities to come forward and tell their stories to COI which will shed light in stopping the misery of our people at the hands of the brutal regime; be advocates for justice!
Last but not least, it is a historic national duty for justice seeking individuals and institutions to unite and work towards the success of the COI mission. The joint task force remain committed to work with any justice seeking institutions and individuals in raising awareness of the COI mission, encouraging victims to speak up and stay abreast with all stakeholders. Silence and opting out are not options.  Therefore, getting engaged and testifying would be the only way in restoring the human dignity of our people who are enduring inhuman treatment under the yoke of an absolute tyranny. Now is the time to stand united and say ENOUGH to injustice unequivocally!
Short URL: https://english.farajat.net/?p=9089
Posted by
farajat
on Dec 5 2014 Filed under
News
,
Press release
. You can follow any responses to this entry through the
RSS 2.0
. You can leave a response or trackback to this entry