From the TBR Shelf #50: African Titanics by Abu Bakr Khaal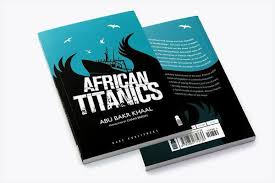 African Titanics by Abu Bakr Khaal, translated from the Arabic by Charis Bredin (Darf Publishers, 2014)
This often happens to me- I'm reading a work of fiction just before or during an event that captures the world's attention. I was reading Germinal when a terrible mining accident occurred in the U.S. a decade ago. I was reading James Weldon Johnson's essays on Haiti just after the disastrous earthquake several years ago. And just a few days ago, I read African Titanics, with the refugees from the Middle East and Africa still streaming into Europe.
This kind of coincidence helps me juxtapose the fictional and the real, past and present, foreign and domestic, thus helping me understand a situation or disaster that I otherwise have no context for. Thankfully I've never had to make a treacherous journey to another country, but African Titanics and the current crisis in Europe have underscored the hardships and choices that people make when they flee war, poverty, violence, and hopelessness.

Khaal's story of an Eritrean man's desperate journey through North Africa to the Mediterranean is one of determination and single-mindedness. Abdar pays smugglers to get him into and out of Sudan, Libya, and Tunisia on his way to Europe, and on the way he meets up with others fleeing similarly desperate circumstances. These refugees are piled into trucks, driven across deserts, given very little water or food, locked up for days in nondescript buildings, chased down by police and the military, and pushed onto unseaworthy boats. Many die on each leg of the journey, and yet those who remain must keep moving or risk arrest and deportation. Smugglers demand piles of money, so refugees must raise it however they can, even as they risk being ripped off by con artists on the look-out for the gullible.
And even after all of that- all of the suffering and running and hiding and bribing- many either die on the sea or are arrested and deported even as Europe is in sight. It is this sense of desperation and desperate hope that Khaal depicts in African Titanics. Like any compelling work, too, this novel raised many questions, and has spurred me to learn more about African migration to Europe in the last few decades and its root causes.
source :  http://bookishlywitty.blogspot.dk/2015/11/from-tbr-shelf-50-african-titanics-by.html
Short URL: https://english.farajat.net/?p=9988